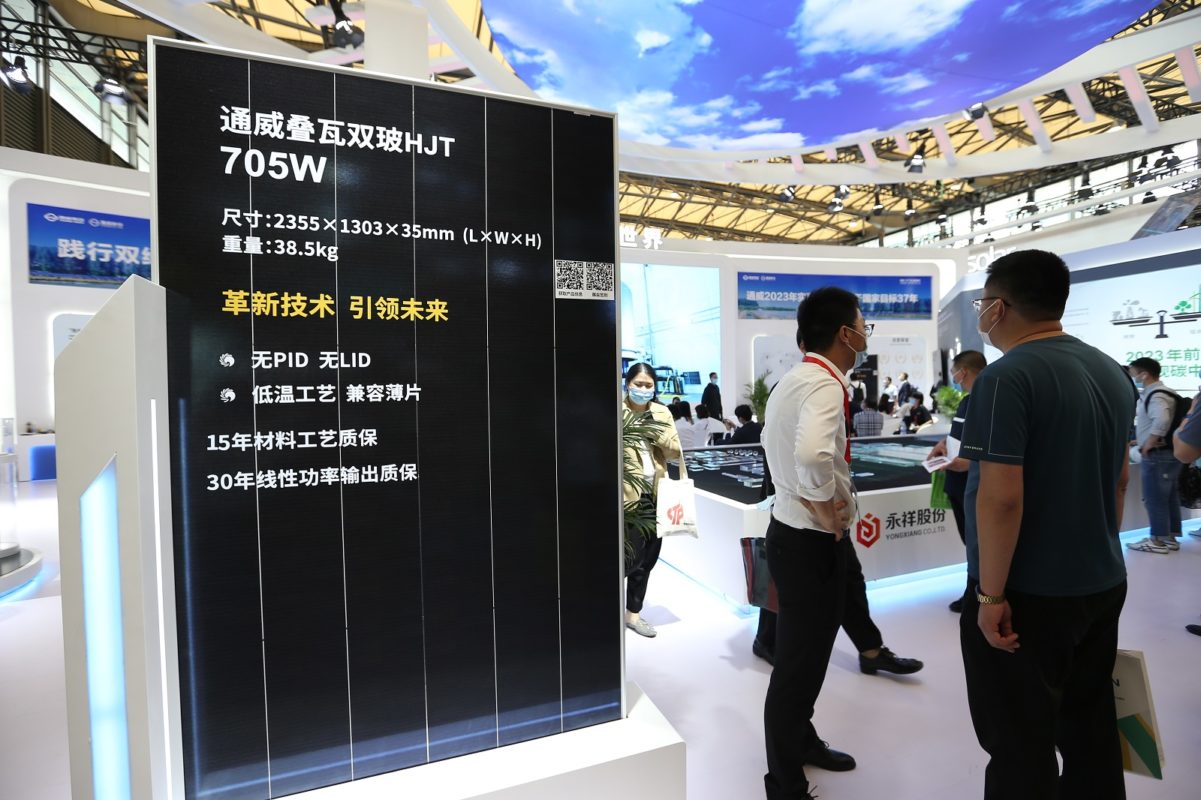 You can read our first 'next generation solar' piece on the development of more environmentally-friendly and commercially competitive perovskite materials here.
SNEC PV Power Expo, the world's largest solar PV tradeshow, opened in Shanghai earlier this month, attracting attention from manufacturers across the solar value chain as they aimed to exhibit their wares. The trade show might have only been able to attract domestic visitors this year, but it was still representative of the technology innovation and market trends for solar PV.
This year was dominated by n-type products.
With the development of PV technology as it has been in recent years, the efficiency of PERC solar cells is reaching its upper limit, space for future improvements limited by the confines of the technology. Driven by market demands for ever higher efficiencies and lower levelised costs of energy (LCOE), manufacturers have focused heavily on n-type PV products, mainly opting for two specific routes: tunneling oxide passivation contact (TOPCon), and heterojunction solar cell technology.
The following table shows all of the n-type modules displayed by various manufacturers at SNEC this year.
| Manufacturer | N-type technology | Module power (W) | Efficiency | Cell size | Additional detail |
| --- | --- | --- | --- | --- | --- |
| JinkoSolar | TOPCon | 625 | 22.86% | 182mm | Multi-busbar (MBB), overlay welding, transparent backsheet |
| LONGi | TOPCon | 570 | 22.3% | 182mm | HPC cell, 72 cell |
| JA Solar | TOPCon | 620 | 22.1% | 182mm | Half-cut cell, MBB, 78 cell |
| JA Solar | HJT | 580 | 22.4% | 182mm | Half-cut cell, MBB, 72 cell |
| Trina Solar | iTOPCon | 700 | 22.3% | 210mm | Multi-cut cell, MBB |
| Trina Solar | HJT | 710 | 22.87% | 210mm | Half-cut cell, MBB, fine pitch, non-destructive cutting |
| Canadian Solar | HJT | 430 | 22% | 182mm | Half-cut cell, MBB |
| Jolywood | TOPCon | 700 | 22.53% | 210mm | Half-cut cell, MBB, bifacial, 66 cell |
| Sunport Power | HJT | 700 | 22.8% | / | Half-cut cell |
| Tongwei | HJT | 705 | / | 210mm | Overlay, bifacial |
| Tongwei | TOPCon | 705 | / | 210mm | Overlay, bifacial |
| Risen | TOPCon + HJT | 700 | 22.5% | 210mm | Half-cut cell, MBB, non-destructive cutting, high-density package |
| CHINT | TOPCon + HJT | 470 | 21.6% | 166mm | Half-cut cell, MBB |
| Haitai Solar | HJT | 490 | 22.54% | 166mm | Half-cut cell, MBB |
| Akcome | HJT | 700 | 22.53% | / | Half-cut cell, nine busbar |
| GS-Solar | 'HDT' | 425 | 21% | / | Ingot mono-silicon |
| GS-Solar | 'HDT' | 505 | 23.3% | / | HBC, double-glass |
| Jinergy | HJT | 510 | / | 166mm | Half-cut cell, MBB |
| Suntech | TOPCon | 620 | / | 182mm | High-density package |
| DASolar | TOPCon | 560 | 21.7% | / | Half-cut cell, MBB, bifacial, 72 cell |
| GCL | TOPCon | 475 | 21.3% | 166mm | Half-cut cell, MBB, bifacial |
| Yingli | TOPCon | 415 | 22.5% | 166mm | Half-cut cell, MBB, 72 cell |
| Huasun | HJT | 505 | 21.44% | 166mm | Half-cut cell, 12 busbar, 78 cell |
Of those exhibiting listed above, perhaps the most notable inclusions – especially in relation to TOPCon solar cells – are JinkoSolar and LONGi, given how the two companies have traded TOPCon solar cell efficiency records in recent weeks. LONGi's efficiency record of 25.21% was narrowly topped by LONGi's 25.25% in the lead-up to the show.
The n-type TOPCon module displayed by Jinko utilised multi-busbar and overlay welding technologies to produce a front surface power output of 625W, while LONGI's Hi-MO N – the company's first n-type product, unveiled at SNEC – uses HPC solar cell technology to obtain a mass production power output of 570W.
Elsewhere on the show floor, Jolywood, a PV manufacturer which has been deeply rooted in TOPCon technology for many years, exhibited its new module product, the Niwa Max, which uses 210mm large-size TOPCon solar cells and a 12 busbar design, reaching a maximum power output of 700W. Niwa Max PV modules are said to be slated for mass production in Q2 2022.
But while TOPCon might be the first n-type technology set to hit the shelves, heterojunction cells will not be far behind it. As a number of manufacturers have told PV Tech in recent weeks, including JinkoSolar and Seraphim, heterojunction modules are somewhat behind TOPCon in terms of mass production owing to issues related to materials, manufacturing equipment and other processes (although Europe-based Meyer Burger aims to ship its first heterojunction modules this year). At SNEC, manufacturers including Jinergy, GS-Solar, Risen Energy, Canadian Solar, Sunport Power, Haitai Solar, Akcome and Huasun New Energy – amongst others – exhibited heterojunction products. Jinergy and Akcome in particular have been developing heterojunction technology for many years, while Huasun has been identified as a potential rising star within the HJT fold, boasting a heterojunction product with a mass production power output of 500W.
GS-Solar is another entity to have devoted significant effort to the research and development of heterojunction technology. It exhibited two unique heterojunction products at SNEC, including a heterojunction module based on ingot single crystal silicon wafers and back contact heterojuncton (HBC), combination HJT with interdigitated back contract (IBC) – itself another n-type subset – technology. Two versions of the product were on display, a version featuring 21% conversion efficiency and a power output of 425W, and another more powerful version with conversion efficiencies of 23.3% and output of 505W.
The industry majors are also fully invested in these technologies, serving as proof of the direction of travel for the mass solar market. JA Solar, Trina Solar and Tongwei all demonstrated TOPCon and HJT products at this year's SNEC, with Trina Solar's TOPCon modules having already achieved mass production and shipment. Trina has now increased its investment in heterojunction, not to be outdone as the technology continues to evolve. Trina's products are on the larger scale with power outputs above 700W, while JA Solar's TOPCon and HJT products, based on the 182mm cell rather than Trina's 210mm, have outputs of 620W and 580W. Tongwei meanwhile has combined TOPCon and HJT with its laminated tile technology to deliver power outputs of 695W and 705W.
Huanghe Solar, a subsidiary of China's State Power Investment Corporation, meanwhile remains the only PV manufacturer in China to pass produce high-efficiency n-type IBC solar cells and modules simultaneously. It exhibited a 'TBC' solar cell, developed using IBC and TOPCon technologies, which garnered attention on the show floor due to its high conversion efficiency and novel combination of two n-type technology subsets.
SNEC has often served as the forebearer for solar PV. Technologies and products on display one year are sold and installed the next. This year's exhibition was proof, if it were really needed, that the next generation of solar cell and module technologies is upon us.
Both TOPCon and HJT technologies have their advantages and disadvantages. TOPCon is broadly compatible with existing PERC production lines, requiring only a few additional processes to be installed. Therefore, TOPCon is the first alternative to transforming existing PERC production capacity, of which there is huge quantities operating in the solar sector today. It's expected that the growth of TOPCon will be stronger in the short-term as a result. But TOPCon processes are also more complicated, and there are still technical issues relating to the stability of manufacturing yields, and this will need to be improved.
Enter HJT. Its simpler manufacturing processes lend it a significant advantage, and its unique solar cell structure allows for high efficiency, low light degradation, low temperature coefficient, improved bifacial potential and improved weak light response. It's also more suitable for slicing, lending weight to manufacturing processes. It does, however, remain vastly more expensive, obstructing the development of HJT lines to date. Over the next two years, the principle aim for the industry is to reduce the material consumption, from polysilicon to silver, involved with HJT manufacturing to reduce these costs.
Each technology has its benefits, and while TOPCon is of more immediate potential, heterojunction will not be far behind it. It's clear now that the next solar cell arms race is heating up.